EXCLUSIVE! Scott McKinsey Talks 40 Years In The Industry, Directing For Soaps, & His Late Legendary Mother!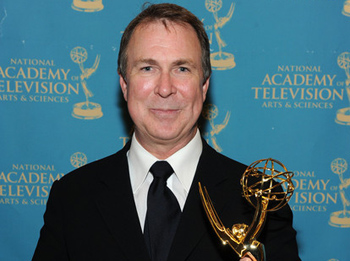 For 40 years, director Scott McKinsey, son of the legendary soap opera actress Beverlee McKinsey (best known to soap fans as Iris Carrington on NBC's Another World), has wowed film goers and television watchers with his brilliant directing skills. Now, in this rare and insightful interview, the famed director reflects on his mother's career (and their relationship), his passion for his work, and of course he shares many stories about each of the soap operas he has worked on!
So, sit back, relax, and enjoy reading this wonderful interview!
Daytime Indulgence:
You grew up with a soap opera legend for a mother. What was that like for you?
Scott McKinsey:
Before my mom acted on daytime television, she performed on Broadway, (as Corie in Neil Simon's Barefoot in the Park), and on the London stage, (as Honey, opposite the iconic Uta Hagen). By the time I was 4 years old, I had been exposed to the charms of Robert Redford, James Earl Jones and Mike Nichols. So, by way of osmosis, I gained an education in theater and drama through my mom's career. And by the time my mom had finished her foray into movies and prime time tv in Los Angeles, (Mod Squad, Hawaii 5-O, They Don't Shoot Horses, Do They?, etc.) I was 11 years old. In 1970, my mom accepted a small part on Another World which led to two momentous opportunities in her career. She portrayed Julie Richards on Love Is a Many Splendored Thing, and then shortly thereafter, Iris Carrington on Another World, which became a landmark performance from 1982-1980. This was when my mom's daytime career exploded. Head writer, Harding, (Pete) Lemay, created a triangle between the characters of Iris, her father, Mac Cory, and his wife, Rachel. This storyline, and my mom's character became so popular that the character of Iris was spun off into another daytime serial, Texas.
DISoaps:
What was it like to grow up as the son of Beverlee McKinsey?
Scott McKinsey:
It was a tremendous joy. My mom was my biggest cheerleader. In NYC, she picked me up during rainstorms from my art classes; and in Los Angeles she was in attendance for every little league baseball game I ever played. But your question asks what it was like growing up as the son of a legend in daytime tv. I'll tell you that I never knew my life to revolve around her career. I always enjoyed dinners at home prepared by mom. I remember Friday night's spent watching, All In The Family, with my mom. If I had to recall her star power, it would be during the moments we were attending a Broadway play on a weekend night, when fans would literally stop her from entering the theater, shouting out their displeasure with her (character Iris') manipulation of her (character's) father's love life! I remember my mom taking the time out of her busy schedule to introduce me to every Charlie Chaplin film playing at a festival across the street from Carnegie Hall. So, I have always appreciated that my career was directly influenced by the efforts of my mom to expand my knowledge of cinema and theater. The 10+ Emmy awards that I have won for directing, (and editing), in many ways, belong to my mom, because every performance she ever delivered as an actress directly influenced my effort to direct. In fact, I know that I wouldn't have a career, if not for my mom. Not only did her position as a star on Guiding Light give me the opportunity to prove my worth, but her belief in me led to my own career.
DISoaps:
Did you inherit your mother's entertainment genes as a young child? Or, did you discover them later on?
Scott McKinsey:
Great question. My mom was born to act. She knew it as soon as she could imagine her future. She studied and performed intensely in college, (at Oklahoma University); and she absolutely loved it. I grew up without any urgent desire to do anything but go to school and play sports. I loved sports. I never signed on to any theatre productions in high school. I enjoyed attending the plays my friends were in, but I had no desire to join them. I was bitten by the entertainment bug when I was given an opportunity to work as a low level assistant for the show SOAP during a semester break from college. Not long after, I dropped out of school, (much to my mom's chagrin), and dedicated my full time attention to climbing up the ladder of tv production. I never looked back. I won my first two National Daytime Emmy awards when I was 23, both for editing; one of which was presented to me by my mom! Whatever worries my mom had about my future were quelled that day.
DISoaps:
What is it like knowing that your mother made such an impact to the point where she is still talked about and honored in the daytime industry?
Scott McKinsey:
It's a beautiful testament to her talent that my mom is still revered by her fans. People like TV Guide's Michael Logan, who could have written about anyone they wanted to, heaped praise upon my mom. And to this day, its a tremendous honor to be able to say to a daytime star actor whom I get to work with for the first time, "My mother was Beverlee McKinsey." Most times this statement is met with wide eyed admiration; and other times an actor may have never heard of her. These occasions give me the opportunity to sing my mother's praises and keep her memory alive.
DISoaps:
Your first directing position for a soap opera was on Search For Tomorrow (I believe). How did that come about for you and what was it like working there?
Scott McKinsey:
Actually, my first opportunity to direct was at Guiding Light, in 1985. My mom was playing the role of Alexandra Spaulding, and her Executive Producer Gail Kobe allowed me to observe the show's daily production, with the possibility to direct. After 3 weeks there, I was given a set of scenes to direct between Kim Zimmer and Larkin Malloy. Following that opportunity, I was given an entire episode to direct, followed by more segments of other shows on occasion. Guiding Light's senior line producer and seasoned director, John Whitesell became the executive producer of Search for Tomorrow at the end of 1985. He offered me a full time position on the show which presented Gail Kobe with the option to hire me herself or allow me to be hired by John. Gail chose to offer me a contract position directing at Guiding Light, in no small part because she had just lost one of her primary directors in John Whitesell. I became the youngest director ever to be put on contract by Procter and Gamble, at the age of 26. Before my signing at GL, I did direct a couple of episodes of Search for Tomorrow. I worked with Jane Krakowski, Matthew Ashford, Larry Haines, Mary Stuart and David Forsyth, among others. I got stuck in the building's elevator for 45 minutes with Mary Stuart at the start of one day, and I got a glimpse of her dynamic personality, wit and grace during a claustrophobic moment!
DISoaps:
What was it like working on Guiding Light?
Scott McKinsey:
Guiding Light was my first daytime family. I directed there for 6 years, and learned everything about soap production that I still rely on today. Guiding Light introduced me to Vincent Irizzary and Judi Evans; Ellen Dolan and Peter Simon; Jerry ver Dorn and Maeve Kinkead; Jordan Clark and Larry Gates, among others. Because of Guiding Light, I was able to direct Jay Hammer in an off broadway play; and dine with Larry Gates at the fabled Players Club. And of course, I was delighted to direct my own mom who originated the role of Alexandra Spaulding, playing it for 9 years, before retiring altogether. My mom was scared to death when I started. She (and I both!) didn't know if I had the chops to handle the job of director. Once I proved myself to my mom, (and the rest of GL), our relationship blossomed on a professional level for the first time. I had grown up knowing about my mom's career, but I had never directly participated in it. I had rarely seen her performances on Another World, Texas and Guiding Light because they aired only one time, without the ability to record them back them: and I was either in school or working in Los Angeles. So, not only did I become her greatest fan very quickly, I was tasked to tell her where to stand and when to move as Alexandra. Today it may seem an unlikely proposition, but at the time it was exhilarating for both of us. My mom's husband, and my stepfather of 16 years, had just passed away; and my mom and I were able to lean on one another during a difficult time. We laughed a lot, and shared anecdotes about people and situations which we were both privy to now. She didn't work with me every day that I directed, nor did I work with her every day she acted on the show. So we would catch up over the weekends at a home we bought together in Connecticut. She would have people like her good friend, Warren Burton, come up to spend the weekend with her; and we would all laugh into the late night sharing stories about life in this crazy business. My mom and I even wrote a script together about life behind the scenes at a fictional soap opera. I became life long friends with many people from Guiding Light, and I miss those days so much. The genre of soaps was still at its peak, and anything was possible. At one point while I was there, Guiding Light was rated #1, and we felt like we were making magic every day.
DISoaps:
You've had a long history with ABC's General Hospital. How has that show helped shape your career?
Scott McKinsey:
General Hospital has been my home for more than 26 years. My very first day there, I worked with many of the icons on the show, Tony Geary, Kin Shriner, John York, Stuart Damon, Brad Maule, Steve Burton, Vanessa Marcil, Lynn Herring, Jackie Zeman, Kristina Wagner and John Beradino. It was a revelation. The show had revolutionized our medium, and I was being given an opportunity to glimpse inside it. It didn't take long for me to fall in love with everyone there, and to start a new family. GH has shaped my career by establishing my reputation, which enabled me to have many more directing opportunities and garnered several awards. GH brought me the prime time 2 hour pilot of Port Charles. And Port Charles introduced me to Brian Presley who hired me to direct the movie, Guarding Eddy. If GH turns 60 years old, and I am still working there, I will have directed the show for half of its life. I too remember being a college aged fan watching Luke and Laura get married, so I'm well aware of the torch that I am blessed to help carry. I've directed more than 1,000 episodes of GH, and I am proud of everyone. I think GH is unique to daytime, and I am honored to have been a part of it for so long.
DISoaps:
What was it like to direct for NBC's Days of Our Lives during its historic 50th Anniversary?
Scott McKinsey:
The opportunity to direct for DOOL came to me from Executive Producer, Albert Alarr. Albert and I have been friends since before we worked together on Port Charles. Albert was tasked by Ken Corday and NBC to make DOOL's 50th anniversary year special for the fans of the show. Albert accomplished this feat by reintroducing fan favorites to the canvas during the year, and celebrating the show's rich history. I've been blessed to embrace a new family at DOOL. They've all been so welcoming to me personally, and inspirational to me, professionally. When you've worked as long as I have in the medium, but never had the pleasure to work with Deidre Hall, Kristian Alfonso, James Reynolds or Susan and Bill Hayes, you come to realize how lucky you are, and how much you appreciate your life. Everyone working on DOOL is a giant in our medium. They are a proud and humble group with a work ethic bar none. One of the greatest achievements of my career was to share the Emmy award for directing last year with my fellow DGA comrades.
DISoaps:
What has it been like working on The Young and the Restless?
Scott McKinsey:
As much as I have been generous with my superlatives, I can't say enough about Y&R. The #1 show in daytime for the last 25 years is home to tremendous talent, in front of the camera, and behind. There's a very good reason Y&R has maintained its rank over the years. Its simply an excellent show. Beyond winning more than its fair share of Emmys, Y&R knows how to entertain its audience. Mal Young currently holds the reins of the show, and he has introduced production expertise to the show not seen since the likes of Gloria Monty on GH. Mal takes the show outdoors to add a dimension of reality to the drama; and he calls upon green screen technology to accentuate special effects. It has been an absolute pleasure to fill in as a director at Y&R. Again, I can't say enough about the talent I've had the good fortune to work with for the first time. When someone like Melody Thomas Scott or Eric Braeden makes you feel welcome enough to be invited back, you know you've done something right.
DISoaps:
What would you say is the biggest difference between directing for a 30-minute soap opera, like Port Charles, versus directing for a one hour soap opera, like As The World Turns?
Scott McKinsey:
Again, a good question. One would think that a half hour show has more time to produce its product on a given day. But, in fact, its the opposite. If a production day lasts 10 hours on average, imagine trying to get a half hour show done in 5 hours, including a meal break and rehearsals. There are exponential factors in any workplace which behoove a longer finished product. That said, I've never been on set at 4 a.m. on a half hour show, but I have been on set that late for an hour show, (GH!)
DISoaps:
You've been nominated and won several times for Outstanding Directing at the Daytime Emmy Awards. What are the Daytime Emmys like for you?
Scott McKinsey:
The Daytime Emmys are an opportunity to celebrate our team. Historically, the awards have been held over a weekend, sometimes at venues like Radio City Music Hall, (in NY), or The Kodak Center, (in LA). Everyone in the daytime community gets to visit with old friends and cheer for their favorite nominees. I've never had a bad time at an Emmy Award celebration; and I've often had a tremendous time. I've hosted parties in Las Vegas which went on late into the night! The best moment of such parties is when a friend walks in whom I haven't seen in years, carrying an Emmy statue!
DISoaps:
What's a typical work week like for you?
Scott McKinsey:
A typical work week can be be very trying. I'm currently working on 3 shows simultaneously, and I've often been sleep deprived delivering my material. That said, the rewards far exceed the demands. When I walk onto the stage of a show I'm directing, I revel in it. I so enjoy the process of directing, that I'm certain my enthusiasm is contagious. My schedule includes multiple meetings with producers and department heads, as well as phone calls and emails clarifying concepts and decisions. But mostly, my week entails a dogged determination to "block" my script. "Blocking" includes writing down every shot you see on air, in detail. I take a script and break it down into acting "beats" which entail the dramatic moments in each scene. Every scene is it's own movie, and I need to recognize its key elements, and then try to capture all of them with camera movement, character movement and dramatic intention. Then I try to assemble each of these individual "movie scenes" into an overall movie, and hope that I can then translate that vision to the actors and crew who will need to perform/record each scene of this movie in 10 minute increments while we're shooting.
DISoaps:
What do you think has been your greatest achievement as you look back on 40 years in the industry?
Scott McKinsey:
I guess my answers to previous questions have covered this question. That said, I'm extremely proud of the awards I've received from NATAS and the DGA. If I had to pick one achievement as my greatest, it would have to my film, Guarding Eddy, which isn't a daytime drama tv accomplishment; and yet it features the talents of many daytime stars, such as Brian Presley, Kiko Ellsworth and others.
DISoaps:
You're one of the most legendary and important directors in the daytime drama genre. What is it like for you to carry that title when it comes to your craft?
Scott McKinsey:
This is clearly a question not best answered by me. I only know that I pull up my pants every day, like anyone else in our business, and hope to deliver my best work each and every time I get the chance to work with the greatest professionals alive, working today.
INTERVIEW BY: CASEY HUTCHISON
FOLLOW US ON TWITTER AND
LIKE US ON FACEBOOK: @DISoaps